Transparency and Your Cooperative
The link to Pioneer Electric's Form 990 is located at the bottom of the page.
Your Cooperative Believes in Transparency.
Pioneer Electric exists solely to provide the best possible service at the lowest possible cost and manage risk that could have a negative impact on its member-owners. In doing so, it aspires to assist in providing economic vitality in rural areas as it exists in urban areas.
Pioneer is not-for-profit, has no profit motivation, has no shareholders and operates at cost on the capital provided by its member-owners, returning any excess collected. Pioneer is member-owned, member-governed (self-regulated by a member appointed Board of Trustees), member-operated (employees) and therefore, member-focused.
This business model aligns Pioneer's interests with its member-owners.
Your Cooperative operates two dramatically different electric utilities in southwest and south-central Kansas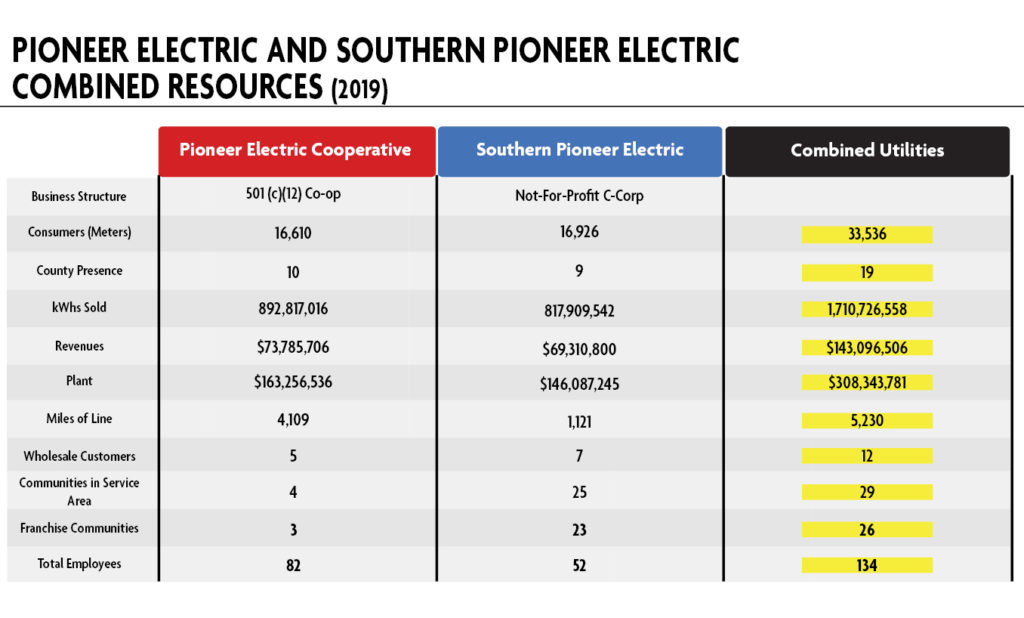 Pioneer Electric Cooperative: A 501 (c)(12) Electric Cooperative (not-for-profit) that is self-regulated by member-owners.
Southern Pioneer Electric Company: A taxable not-for-profit C-corporation that is regulated by the Kansas Corporation Commission (KCC).
Pioneer Electric Cooperative's Executive Staff and Board of Trustees operate and manage both utilities; staff salaries and board per diem are shared between both companies (both utilities pay less than they otherwise would).
Pioneer Electric Cooperative has removed a number of redundant activities as well as personnel with Southern Pioneer in an effort to lower costs for both.
THE RESULT
Pioneer Electric Cooperative has the lowest residential rate in the state among Kansas electric cooperatives and is well below the investor-owned utility average.
Performance:

Pioneer Electric scored a 91 on its last American Customer Satisfaction Survey (ACSI), the highest score among all electric cooperatives in the United States.
Pioneer Electric retired $4,900,000 in capital credits to members in 2020.
Over the last three years, Pioneer Electric and Southern Pioneer have donated a combined $319,300 to area community organizations (a large portion of these proceeds were funded through metal salvaging efforts).
Pioneer Electric and Southern Pioneer Electric have awarded a combined $121,000 in college scholarships to area high school students in the last three years.
Pioneer Electric and Southern Pioneer Electric have awarded 26 area high school students youth tour trips in the last three years.
Through Pioneer Electric's Rural Economic Development Loan Program, Pioneer has approved 17 loans of $4,611,300, funding projects totaling $22,142,530 that created 104 new jobs in 10 southwest and south-central Kansas counties.
Pioneer Electric and Southern Pioneer Electric combined pay more than $5,500,000 in property taxes annually.
Board and Key Staff Additional Responsibilities:
Pioneer Electric/Southern Pioneer Electric is one of six member-owners of Sunflower Electric Power Corporation (SEPC).
Pioneer Electric/Southern Pioneer Electric's CEO and one Pioneer Electric/Southern Pioneer board member sits on SEPC Board of Directors in an effort to direct the activities and resources of SEPC:

Generation Resources: Nine owned generators = 1,075 MWs; 4 PPAs = 200.3 MWs
Transmission Line: 2,482 Miles
Total Plant : $1,495,869,834 (generation and transmission)
Total Revenue : $340,007,942 (power supply and transmission)
Consumers Served: Approximately 220,000
Form 990
Pioneer Electric Cooperative has been required to submit a Form 990 since 1944.
The Form 990 is public information and can be accessed by anyone.
It reports recent financial statements, margins, expenses, investments as well as compensation for directors, key employees and contractors.
Pioneer Electric is audited annually by BKD, LLP, an independent accounting firm. This annual audit ensures Pioneer Electric's financial statements and records are complete and reliable, in accordance with generally accepted accounting principles.
The Kansas Corporation Commission (KCC) staff have reviewed the executive salaries at Pioneer Electric and Southern Pioneer Electric and three other area electric cooperatives as part of their jurisdiction in transmission rate filings. The KCC found the compensation methodology is just and reasonable.
Annually, Pioneer Electric utilizes our national organization's (NRECA) salary benchmarking tool to determine a competitive market range for each position based on similarly situated electric cooperatives across the country.
Questions
Members may direct questions regarding Pioneer Electric to our office by calling 1-800-794-9302.
Resources:
Below, we have provided a link to our most recent Form 990 for your convenience along with other resources.