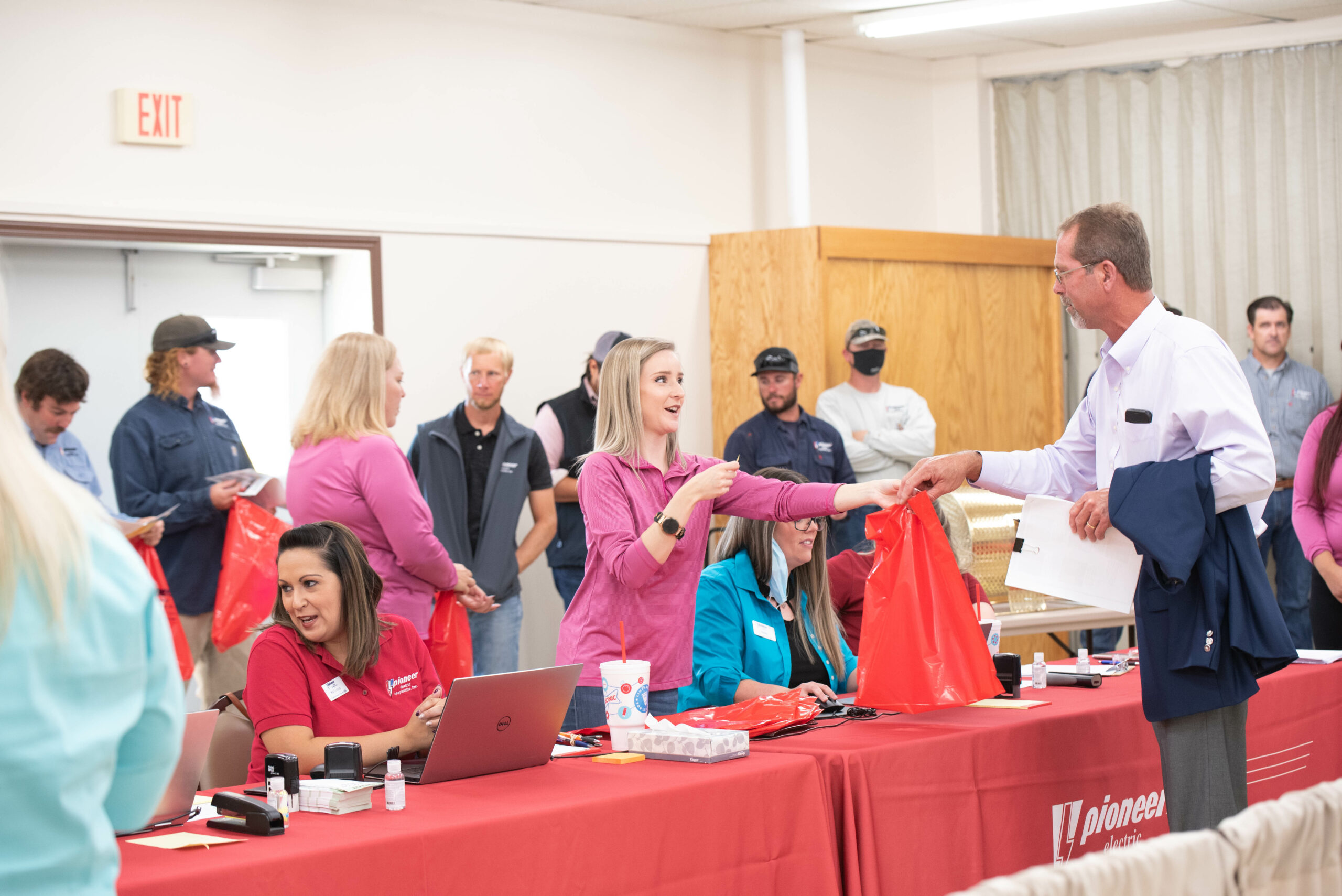 The count down to the 78th annual meeting is on! Pioneer Electric Members are invited to join us at the Grant County Civic Center on Thursday, September 15.
Registration for the annual meeting will begin at 4:30 p.m. in the South Room. Members will need to enter the South Room through the former Civic Center Office door, signage will be in place to direct members to the entry. Members that did not submit a mail-in ballot will need to register to vote at the meeting. Members who have already voted by submitting a mail-in ballot are asked to register in order to receive their annual report and attendance gift. Once registered, members will be able to go through the meal line and find a seat inside the auditorium. The business portion of the meeting will begin at 6:00 p.m.
Trustee Elections
Each year, members are appointed to serve on the Committee on Nominations. This committee, acting as the members' voice, is tasked with selecting candidates who would make qualified trustees. Those nominated to the ballot must reside in the district they wish to serve and meet the qualifications outlined in the Cooperative's bylaws.
Candidates selected by the Committee on Nominations are placed on the trustee ballot for election at the Cooperative's Annual Meeting. The 2022 committee on nominations met on July 13 at Pioneer Electric's headquarters and selected the following nominees for this year's election:
DISTRICT 5
Fred Claassen (incumbent)
David C. Light (nominee)
DISTRICT 6
James N. Bell (incumbent)
Michael O. McCulley (nominee)
DISTRICT 9
Charles E. Milburn (incumbent)
Donald W. Beesley (nominee)
Casting Your Vote
Each member is entitled to one vote on each matter presented on the annual meeting ballot. Pioneer Electric members may cast their ballot one of two ways:
Vote by mail.
Vote in person at the annual meeting.
Members who opt to submit a mail-in ballot will not be permitted to vote in person at the annual meeting, but are still encouraged to attend.
Vote By Mail
Members received a mail-in ballot attached to their annual meeting notice in August. Votes cast by mail must be returned to Pioneer Electric's office properly sealed, no later than Sept. 10 to be considered valid. Instructions on returning your mail-in ballot are included with the annual meeting notice.
COMMERCIAL MEMBERS MUST BE SURE TO INCLUDE A SIGNED RESOLUTION (ATTACHED TO NOTICE) INSIDE THEIR PRIVACY ENVELOPE WITH THEIR BALLOT.
Vote At the Annual Meeting
In-person voting will be available upon registering at the annual meeting on Sept. 15. A marked ballot box will be open for members to place their ballots in once they have finished voting.