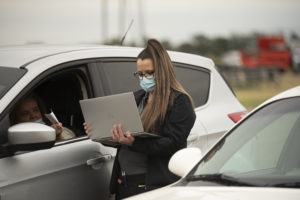 The Pioneer Electric Annual Meeting is Thursday, September 9, 2021, at The Grant County Civic Center in Ulysses. The meeting will begin at 6:00 p.m. Members are invited to attend this year's in-person meeting to hear from their cooperative and cast their vote for representation on the Board of Trustees. A complimentary meal catered by Webb's BBQ will be served for attendants to enjoy while partaking in the meeting. Attendance gifts and prizes will also be distributed.
"To be able to meet in person is an exciting thing," said Anita Wendt, vice president of energy services.
Registration for the event will being at 4:30 p.m. in the South Room of the Grant County Civic Center and conclude upon the start of the meeting. 
Members who are unable to attend the Annual Meeting in person have the opportunity to cast their ballot via mail-in ballot. Mail-in ballots and instructions regarding how to cast a successful ballot are included in this year's Annual Meeting Notice. Notices will be mailed to members in August.
"It's important that all members have a say in their cooperative representation," said Wendt. "With the option to cast their vote by mail-in ballot, Members who are unable to make the annual meeting still have the option of having their voice heard on important ballot matters."
This year's Board of Trustees election candidates includes District 3 – Jeff W. Moyer (incumbent) and Jay B. Annis (nominee); District 4 – Alfred Alexander (incumbent) and Denton Schloemer (nominee) and District 8 (District 3 and 4 at-large) – John R. Jury (incumbent) and Jerry Brown.
Member's with questions or concerns regarding the 77th Annual Meeting may contact Pioneer Electric's office by calling 620-356-1211 or visiting our office located at 1850 W. Oklahoma Ave. in Ulysses.