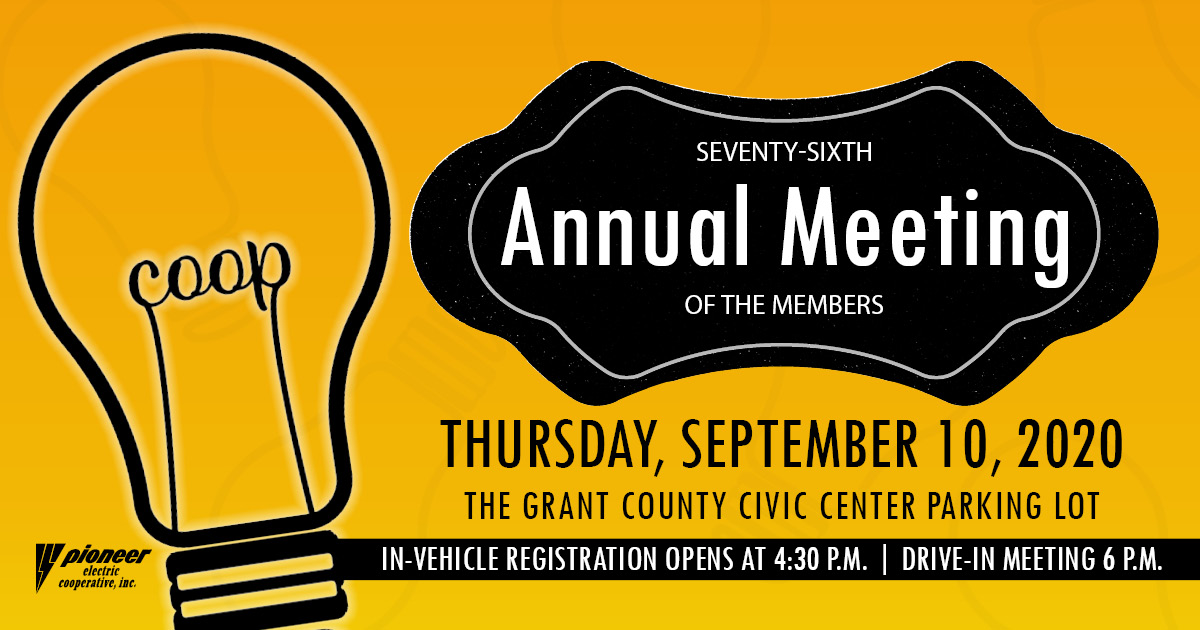 The 76th Pioneer Electric Annual Meeting of the Members will take place Thursday, September 10th in the Grant County Civic Center parking lot. Registration will begin at 4:30 p.m. with the meeting scheduled to begin at 6:00 p.m. This year's meeting will be conducted in partnership with Pioneer Communications and will be held as a "drive-in" style meeting, with members remaining in their vehicles for the duration of the meeting. The meeting will be broadcast to the members' vehicles through their radio with the assistance of a FM transmitter.
"We know this year's annual meeting will be a different meeting than members are used to" said Anita Wendt, Pioneer Electric vice president of energy services. "In order to protect the health and safety of our communities, we knew we had to make some changes to the meeting. Even though the annual meeting will look different, it will still be the informative, well-ran meeting that our members expect."
In order to register for the meeting, members will need to enter the Civic Center's main parking lot and follow employee direction to park. Once parked, Pioneer Electric and Pioneer Communications ask that members remain in their vehicles. Employees from both cooperatives will come to their vehicle to register them, distribute ballots and deliver the meal. We ask that members please keep trash or other items that need to be discarded in their vehicles, as trash cans will not be available.
Pioneer Electric members planning to attend the annual meeting will need to register to receive their official ballot for the proposed bylaw changes and board representation. Those acting as a proxy will need to have the appropriate card when registering, to receive their ballot. Proxy ballots can also be registered in advance of the meeting; call our office for additional details (620-356-1211). Members will need to hold onto their ballots until they are collected by a Pioneer Electric employee.
The ballot will include many action items, with several bylaw changes and three districts up for election. Districts up for election this year are: District 1: Steve Arnold (nominee) and David Walker (nominee); District 2: Mike Brewer (incumbent) and James Wilson (nominee); and District 7: Martie Floyd (incumbent) and Jerrod L. Daniels (nominee). Members will also vote on several proposed bylaw changes; a detailed summary of those changes may be viewed on Pioneer Electric's website.
In the interest of time, Pioneer Electric and Pioneer Communications have combined their agendas. Pioneer Communications will conduct their order of business first, with Pioneer Electric to follow. Members can find information detailing 2019 happenings in the new Annual Report magazine that members will receive, along with their attendance gift, at registration. The event will conclude with the announcement of prize drawing winners. Any member who wins a prize from Pioneer Electric may pick up their winnings at our office during regular business hours.
This year's annual meeting is one that members will not want to miss. Members with questions regarding this year's annual meeting may call Pioneer Electric's office at 620-356-1211.