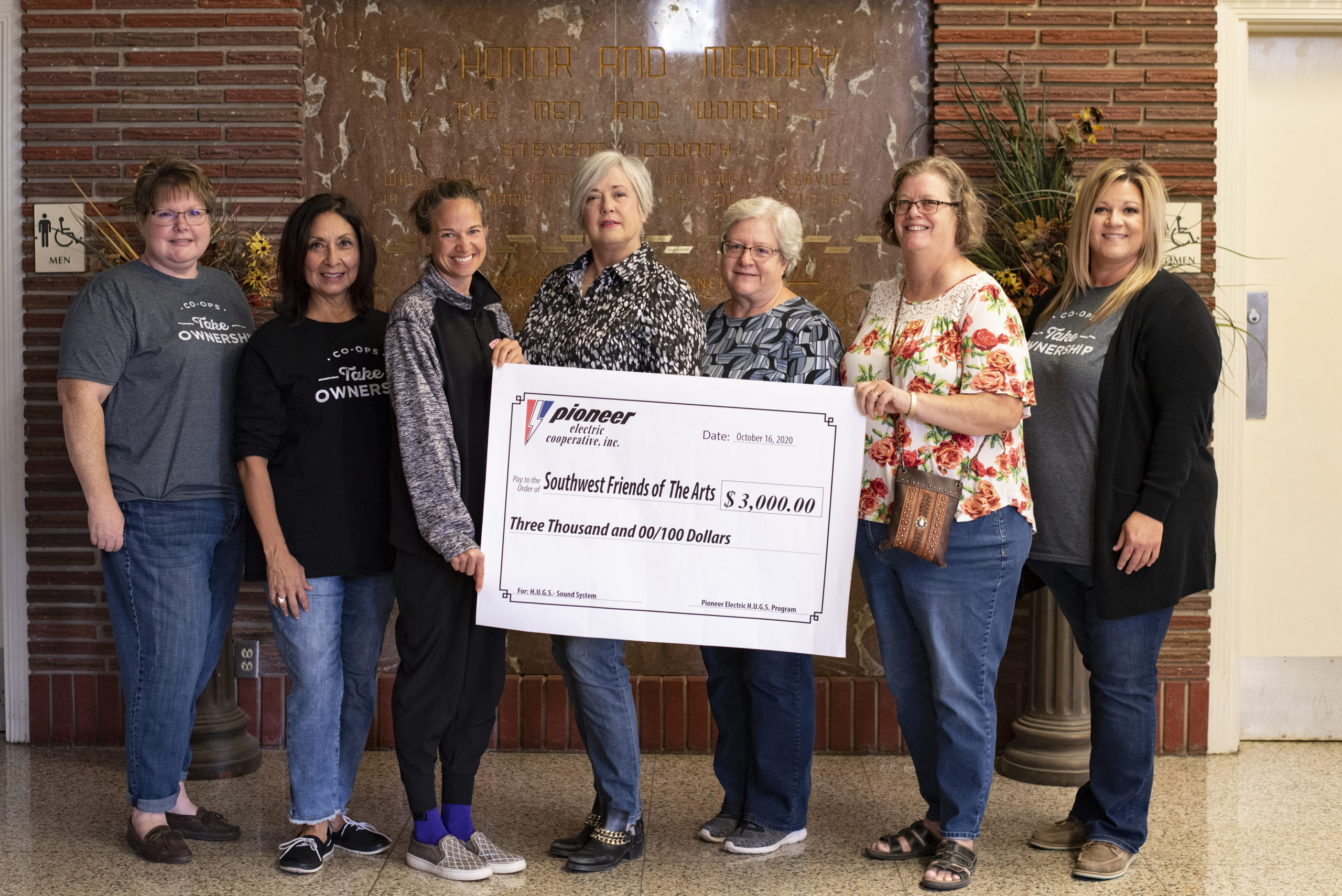 October 19, 2020 – Members of the Pioneer Electric H.U.G.S. team presented the Southwest Friends of the Arts with a $3,000 H.U.G.S. grant on Friday, Oct. 16 at Memorial Hall in Hugoton. The club will use the funds to purchase a new sound system for upcoming shows and productions. The sound system will include eight wireless microphones, transmitters and a mixing board to run them.
"The addition of a sound system will be a huge benefit for the program," said Anita Wendt, vice president of energy services and H.U.G.S. team member. "The sound system will add to the enjoyment of future productions."
The organization will use the new sound system in its various productions. Performers wearing the mics will be able to be heard more clearly by those in the audience during the Southwest Friends of the Arts upcoming productions, including the fall play in November and the children's play in the spring. Currently, performers speak as loudly as possible during productions
"A large percentage of our audience is hearing impaired," said Janice Hollis, a charter member of Southwest Friends of The Arts. Our audiences can be as many as 400 in attendance; with the new sound system every member of the audience will be able to enjoy our productions."
The new system will also be portable, allowing Southwest Friends of The Arts to take the system with them to the many different locations they perform from. "It was a bonus that it's portable," said Hollis.
The H.U.G.S. (Helping Us Give to Society) team was formed to help give back to the communities Pioneer Electric serves. Funds for community-focused projects are produced through the recycling of scrap pieces of steel, aluminum and copper taken out of service.
Pioneer Electric Cooperative, Inc. is dedicated to providing members with safe and reliable electric service. Headquartered in Ulysses, Kansas, Pioneer Electric is a distribution cooperative owned and controlled by its members. Pioneer Electric serves approximately 15,900 retail electric meters across 10 counties in southwestern Kansas. The system is made up of more than 117 miles of transmission line, 3,600 miles of distribution line and 21 substations. All of Pioneer Electric's electricity is procured by Sunflower Electric Power Corporation, which is owned by Pioneer Electric and five other Kansas electric co-ops. Pioneer Electric is a Touchstone Energy Cooperative. For more information regarding the H.U.G.S. program and information regarding applications, visit the H.U.G.S. page.