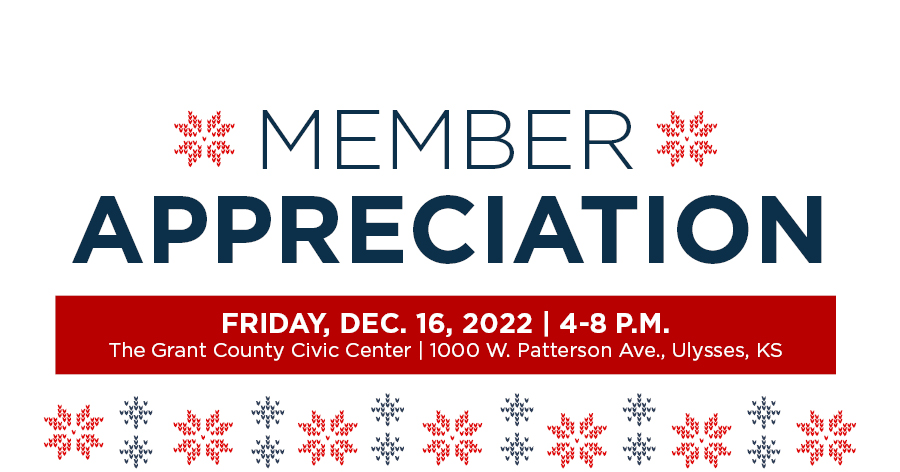 The holiday season is upon us! Pioneer Electric invites members to join us on Friday, Dec. 16, from 4–8 P.M. as we retire $4.4 million in capital credits back to our members during member appreciation. Join us at the Grant County Civic Center for a festive evening with live entertainment, a free meal (while supplies last) and much more!
Capital Credit Checks
Capital credit checks will be available for pick up in the South Room of the Grant County Civic Center. Like the annual meeting, members must enter through the east door to pick up the checks.
After receiving their check, members are welcome to enter the Walker Auditorium to enjoy a complimentary meal (while supplies last), visit with Santa and enjoy live entertainment.
Any checks not picked up after the event will be mailed out on Monday, Dec. 19. Pioneer Electric will not hold any capital credit checks at its office.
Meal
All are welcome to join us for dinner during member appreciation, regardless if they receive a check. This year's meal will include chicken and noodles, mashed potatoes and a brownie (while quantities last).
Entertainment
Santa will once again make his way to Member Appreciation. Jolly Old Saint Nick will be available throughout the evening to visit with our mini-members, and double-check his naughty and nice List.
This year's event will also host a variety of live entertainment acts throughout the evening. Members and their families are invited to enjoy the sounds of the Ulysses High School Jazz Band and a performance from Diamond Dance Company.
Members with questions regarding their capital credit check or Member Appreciation may call Pioneer Electric at 620-356-1211 during regular business hours (M-F, 8 A.M. – 5 P.M.).