Common Questions Regarding Winter Storm Uri and Upcoming Bills
We have received many questions and concerns regarding the impact of Winter Storm Uri and want to provide members with information regarding the event. Our current estimates indicate $17-20 million in additional costs for our February power bill. We understand the concern regarding upcoming billings and are working to manage this cost.
The Pioneer Electric Cooperative, Inc. Board of Trustees approved a distribution billing adjustment to members on April 28,2021. This will display the costs associated with February's event amortized (spread out) over 36 months in an additional charge on billing statements. Current approximations have this projected at $7.89 per month for every 1,000 kWh used during February 2021. Please note that this is just an approximation and may not be fully reflective of the final charge. Members can view an example of this proposed charge here.
Please review the below questions or contact our customer service team regarding the 2021 Storm Recovery Charge.
Common Questions Regarding Winter Storm Uri
What caused the energy emergency alerts that resulted in rolling outages?
In mid-February, the Midwest experienced a sustained polar vortex leading to record low temperatures. The cold weather created an increased demand for electricity. Simultaneously, natural gas supply was constrained due to frozen pumps in the field and frozen pipelines. Normally, this natural gas supplies the fuel for generation, but when the fuel is not flowing, natural gas generation cannot operate. This issue, combined with a lack of wind production, contributed to limited available generation.
When demand for electricity is extremely high and the supply of available generation is limited, the Southwest Power Pool (SPP) issues energy emergency alerts (EEA) which can result in rolling outages. These rolling outages are necessary to avoid potential uncontrolled, catastrophic cascades of outages of much longer duration.
Is Pioneer Electric going to charge me one large bill for February's Storm?
We're making efforts to ensure that costs associated with Winter Storm Uri are manageable for our members. Management and the board of Pioneer Electric is proposing to amortize (spread out) the costs to members over a period of 36 months and avoid placing the entire cost in one statement. Within the proposal, these adjustments will be reflected as a "February 2021 Storm Recovery Charge" on members' bills. PLEASE NOTE THAT THIS WILL BE IN ADDITION TO YOUR NORMAL, MONTHLY BILL. This will be displayed monthly on billing statements and the total will be spread over a 36-month period to account for the total incremental expense of February's winter event.
The board voted on this proposal during the April 28, board meeting and approved its implementation starting in May 2021. If Pioneer Electric receives any credit or additional expense towards February's event, it will be allocated to all members and reflected on subsequent bills. Again, our goal is to minimize the impact and work to protect the interests of our membership.
What will the February 2021 Storm Recovery Charge look like on my bill?
For a majority of members, the February 2021 Recovery Charge will be listed under the "Current Activity" section on bills. Members belonging to invoicing groups (with 18+ services) will see the charge listed in Misc. Charges.  Please feel free to talk to contact our customer service team for assistance in locating the recovery charge on your statement or for any questions pertaining to billings.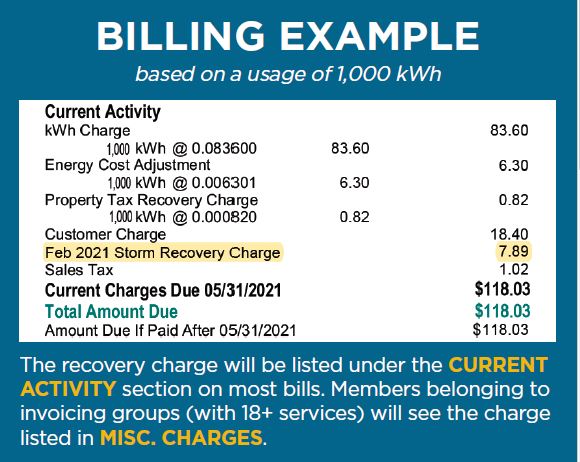 Can I pay my February 2021 Storm Recovery Charge in one payment?
Yes. Once billed, members will have the option to pay their total recovery charge in one payment. Members will need to contact Pioneer Electric for their total charge and for more information.
How much will I owe for the February 2021 Storm Recovery Charge?
The February 2021 Storm Charge is based upon the member's usage during February 1-28, 2021. This usage is then multiplied by a rate reflective of the additional power cost for the month of February (approx. $0.284 per kwh). This rate is the same for all members to ensure that each receives their proportional cost of the event. Once figured, the result is the member's allocated additional cost for February's event.
The total cost is then spread out (amortized) over a 36 month-period and applied as an additional charge on billing statements. Please note that the example provided is based off current approximations and may not be reflective of the final charge allocated to members. The graphic below provides information for members to calculate this charge.

Will the total charge be taken out of my auto pay (automatic bank draft) in one payment?
No, Pioneer Electric is proposing that the total charge be amortized (spread out) over a 36-month period. Members that currently use direct deposit (auto pay) payment will not see the total accumulated cost for Winter Storm Uri withdrawn from one billing payment. As with standard bills, the additional storm recovery charge will be withdrawn on the billing due date. Unless paid in full, please contact our office for details, this will be amortized over 36 months. This will be listed on member's electronic or paper billing statements. Members with concerns can reach out to our customer service team for additional information regarding direct deposit payments.

How will the February 2021 Storm Recovery Charge impact budget billing?
Members that utilize budget billing will pay their amortized recovery charge in addition to their monthly budgeted amount. As with standard billings, the recovery charge will be treated as an additional charge. Budget customers may see the this rounded up to a whole dollar amount, as budget billings are set to whole amounts.  For example, if a member's budgeted amount is $100 and their monthly recovery charge is $7.87, they will be responsible for paying $108 per month. Budget customers may contact Pioneer Electric for additional information regarding budget billings and the 2021 Storm Recovery Charge.
Will new members receive a February 2021 Storm Recovery Charge?
New accounts/services implemented after February 2021 will not be allocated a Storm Recovery Charge. The charge is solely based upon usage from February 2021 and will not impact services initiated after that time.
Why was my February 2021 bill higher than normal?
Some customers may have a higher bill due to increased energy usage during February's extreme temperatures. Increased use of power-hungry heating appliances (such as furnaces and space heaters) would be reflected in billings for February. Please note, that this is not associated with the Storm Recovery Charge. All costs associated with February's event will be listed separately on billing statements as the February 2021 Storm Recovery Charge.
Is financial assistance available?
Currently, the State of Kansas offers two utility assistance programs to its residents. The Low Income Energy Assistance Program (LIEAP) and Kansas Emergency Rental Assistance program both offer assistance with utility bills. Additionally, any state or federal relief funds received at the utility level directly related to Winter Storm Uri will be credits to members' accounts.
Will interest be charged on the February 2021 Storm Recover Charge?
No, the storm recovery charge will not be subject to any added interest over the 36-month recovery period. Changes to the recovery charge may occur as markets settle following the event and be adjusted in future billings.