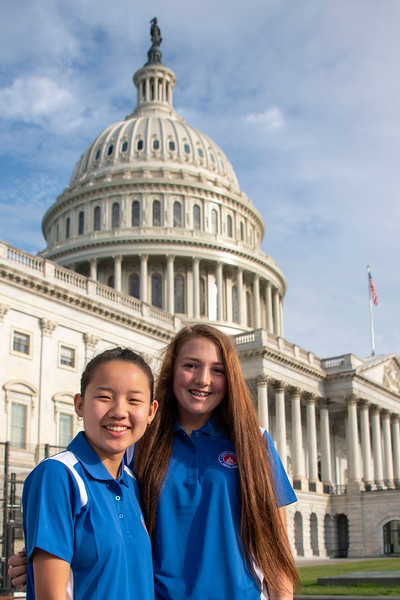 Pioneer Electric proudly sent Autumn Deyoe and Mia Rock to represent Pioneer Electric on the 2018 Youth Tour. These students joined 37 other representatives from electric cooperatives across the state of Kansas in a week-long tour of Washington, D.C.
"These are some outstanding young adults," said Rae Gorman, Manager of Energy Services.  "Our hope is that this experience has encouraged these students to build lasting skills that they will be able to bring back to their communities."
Heglin and Wilken enjoyed touring various museums, attended a professional baseball game, met with state and national legislators, viewed historical monuments and walked through the White House.
In addition to seeing all the sights, the two also enjoyed meeting other delegations of students at the National Rural Electric Cooperative's Youth Program. The program brought together more than 1,800 students from across the nation together. Motivational speakers, activities and more greeted the youth as they enjoyed an evening of creating new friendships.
Youth Tour is sponsored each year by Pioneer Electric and other participating electric cooperatives. For additional information regarding the program, contact Drew Waechter at dwaechter@pioneerelectric.coop or visit here.