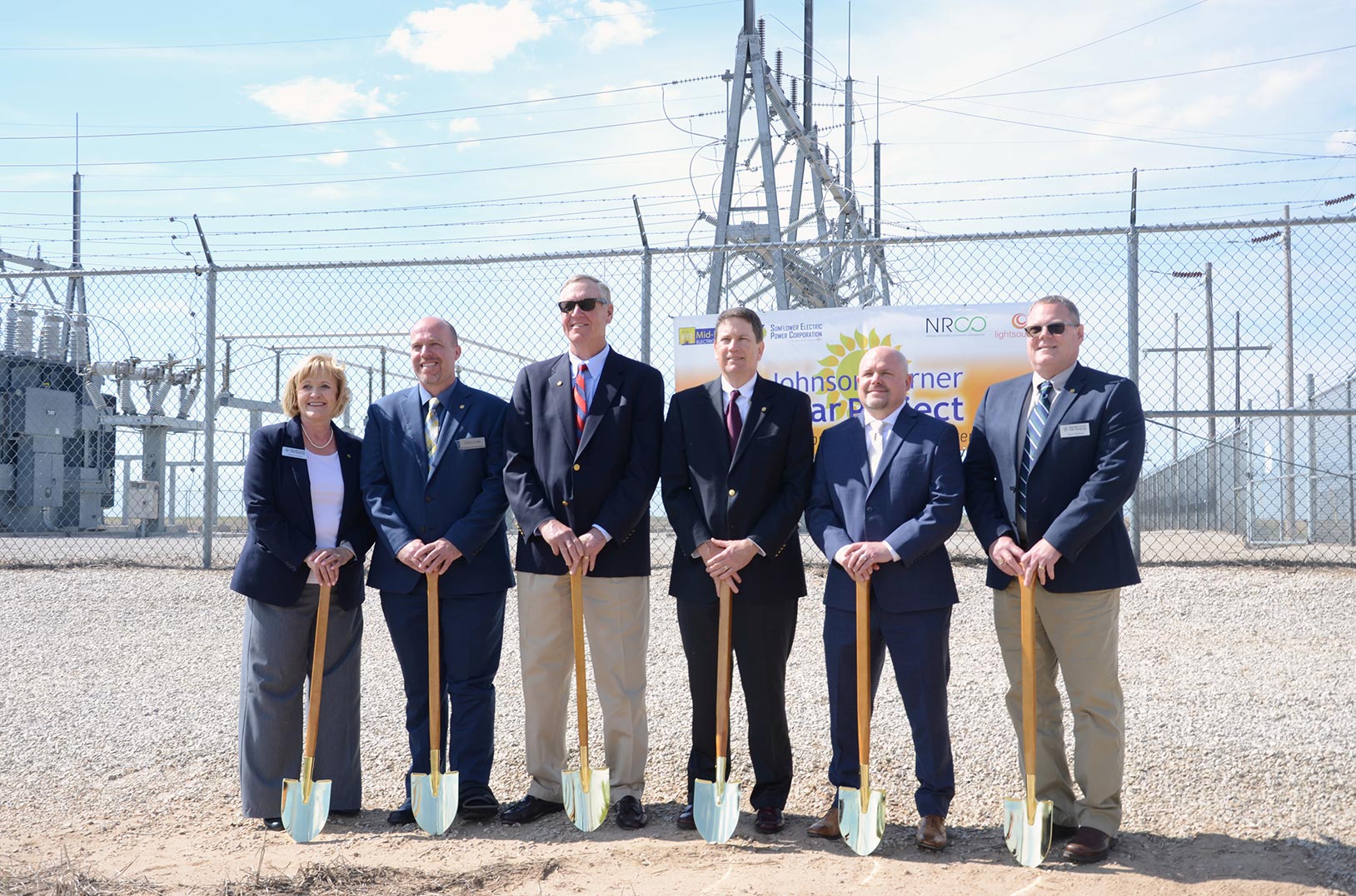 Courtesy of Sunflower Power Corporation
Eighty-four degrees and bright sunshine, the perfect weather for Sunflower Electric Power Corp.  and Mid-Kansas Electric Company to celebrate the groundbreaking of the 20-MW Johnson Corner Solar Project on June 17, 2019. A 25-year power purchase agreement was made with Lightsource BP, an independent power producer that will build, own and operate the solar facility. The facility will be located approximately two miles southwest of Johnson City, Kan.
U.S. First District Congressman Roger Marshall, dignitaries from Mid-Kansas, Sunflower, Lightsource BP and the National Renewables Cooperative Organization, and guests attended the event at the Stanton County 4-H Building in Johnson City, Kan.
"The Johnson Corner Solar Project will be the largest solar project in Kansas, and that's definitely something to celebrate," said U.S. Rep. Roger MarshalI. "I congratulate Sunflower, Mid-Kansas, Lightsource BP, and NRCO on their successful collaboration to launch this project."
The project was announced in February 2018 with an expected completion date in late 2019. However, in the fourth quarter of 2018, Lightsource BP requested a schedule extension to allow them to package the Johnson Corner Solar Project with several others so they could achieve more favorable financing terms.
The solar project will add another fuel source to Sunflower's and Mid-Kansas' generation portfolio that already includes natural gas, coal, wind, and small amount of hydro.
"The solar project is an example of fuel diversification to generate electricity," said Steve Epperson, Mid-Kansas chairman of the board and Sunflower board member. "As locally elected boards of directors, we have a responsibility to employ the right combination of traditional and renewable generation resources that protect both the affordability and reliability of electricity."
The facility will produce approximately 55,500 megawatt hours annually, comprising one percent of the Mid-Kansas and Sunflower combined-system's energy.
"Our system is summer peaking, which means energy demand is highest during those months," said Stuart Lowry, president and CEO of Mid-Kansas and Sunflower. "In contrast to wind facilities, which generate the most energy during winter night hours, this project will generate energy on hot, summer days, providing protection against high market prices during those times."
Locating the solar facility at Sunflower's Johnson Corner Substation will also reduce loading on an area transmission line that is importing energy at its full capacity and would require expensive upgrades without the local energy injection provided by the future Johnson Corner Solar Project.
Construction will begin in August, and the facility is scheduled to be energized in the first quarter of 2020.