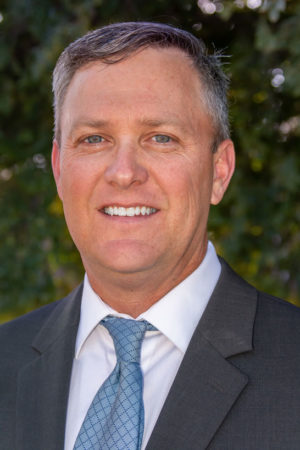 Ulysses, KS- The Pioneer Electric Board of Trustees announce the appointment of Jeff Moyer to the cooperative's Board of Trustees. Moyer will serve as the representative of District 3 and finish the unexpired term of Perry Rubart.
Moyer is a Ulysses native, graduate and resident. He graduated magna cum laude from Kanas State University's Architecture program and after practicing architecture for a year, moved back to Ulysses in hopes of raising a family. He and wife, Artrisha, are the proud parents of Jazstyn (a sophomore of K-State Polytechnic), Jett (a senior at Ulysses High School) and Jyntri (a junior at Ulysses High School). He enjoys volunteering as a youth sports coach, a troop leader for Boy Scouts and as a Deacon at the Ulysses Church of Christ and balances his community service with his work at Moyer Aviation Inc. and the Jayhawk Gas Plant.
"This is an exciting opportunity for the cooperative," said Martie Floyd, board president.  "Jeff's involvement with the board will provide a new perspective for Pioneer Electric. We appreciate him stepping up for this responsibility and look forward to seeing the impact he will make on our cooperative."
In September, Rubart stepped down from his position as trustee after serving over 34 years with the cooperative. As outlined in Pioneer Electric's member-approved bylaws, the cooperative board shall appoint a representative to serve the remainder of the term left vacant by a trustee. Nominees for the appointment had to meet the qualification standards outlined by the cooperative and interview with the remaining member-elected trustees. Trustees of Pioneer Electric serve a three-year term with the cooperative; ending with the seat moving into general election. Elections are held at the Annual Meeting of the Pioneer Electric, held in March. The last appointment made to Pioneer Electric's board occurred in 1999.
Questions regarding the board, Moyer or the appointment process may be directed to Pioneer Electric by calling 620-356-1211.