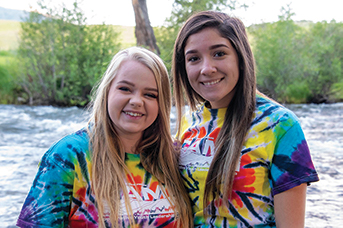 Leonela Martinez and Tyann Weis were selected to represent Pioneer Electric at the Cooperative Youth Leadership Camp (CYLC) in Steamboat Springs, Colorado. The camp is a collaboration of efforts from electric cooperatives across Kansas, Colorado, Oklahoma and Wyoming. Together, the delegates spent the week learning about electrical co-ops, developing leadership skills and creating lifelong friendships.
More than 100 delegates began their adventure by making their way across the sunflower state for an overnight stay in Denver, Colorado, stopping for indoor skydiving and exploration at the STEM (science, technology, engineering and math) education lab at iFly. Waking up to the sight of the Rockies, the group finally made it up to Steamboat Springs and Glen Eden Resort.
At camp, delegates were elected to various committees, learned about the structure of electric cooperatives and were challenged to define what "leadership" meant to them.
"A lot of students go into camp with ideas of what a 'leader' is," said Drew Waechter communications coordinator for Pioneer Electric. "What's interesting  is seeing how that perception is changed after experiencing the role in different ways. They have to step up for situations, they have to follow, they have to direct and they have to listen. It's not just about being the most charismatic person in the room."
Various speakers and presentations helped reinforce the message of "finding one's own voice" and showed how it could be applied within their lives. "This trip has inspired me to become the leader that people need but may not have," said Martinez.
"I want to make a better environment for myself and the people in my life," said Weis. "To be there and be supportive of others, that's what I'm going to strive for." Delegates also met with employees of Trapper Coal Mine learning about jobs available within the cooperative system and how leadership skills are applied within the industry. The group then toured the mine and power plant.
A bit of traditional camp fun rounded out the experience for Martinez and Weis. Together, they enjoyed exploring the town of Steamboat Springs, hiking, swimming, attending a camp-wide dance, participating in a talent show, playing volleyball and whitewater rafting with their fellow delegates.
"It wouldn't be a camp without a little fun," said Waechter. "It's cool to hear the stories about the student's experiences and listen to them talk about all the new people they've met."
At the end of camp, each student takes home new memories and a mountain of souvenirs. Pioneer Electric is proud to have sponsored Martinez and Weis. Our hope is they take the experience and use it to empower their communities, schools and beyond.