Whether it was a photo op with friends and family, a bike ride on the trail, or an afternoon walk to enjoy the outdoors—the bridge at Frazier Park near the Bentwood Golf Course was a well-worn attraction in Ulysses, Kansas. So when the bridge burned down, the community was saddened by the sudden loss.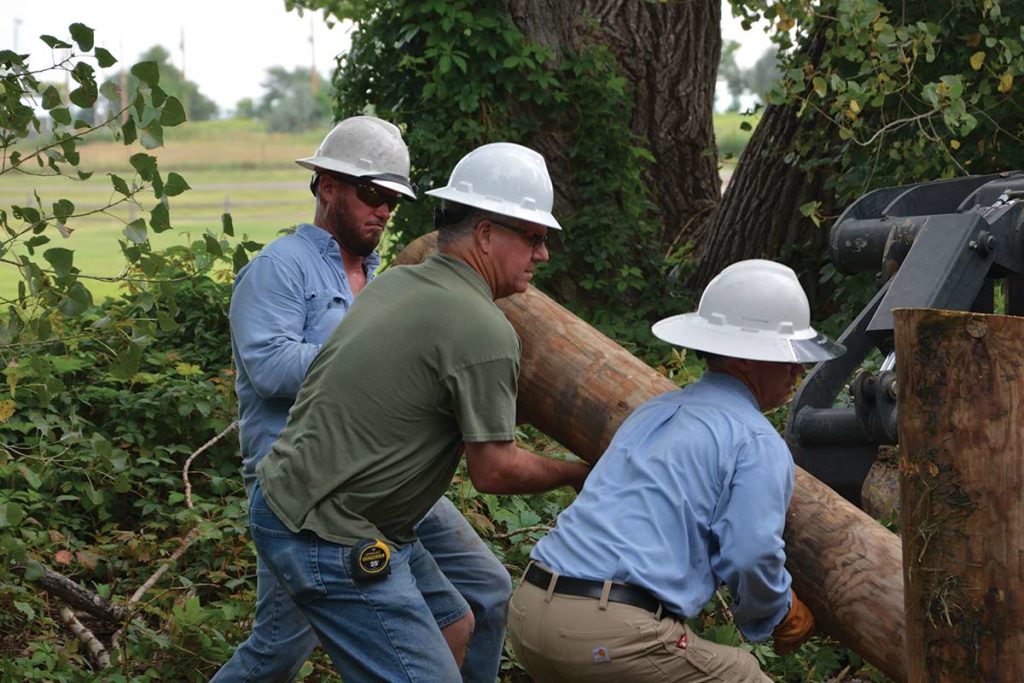 Scout MAX GIESAKING, from Ulysses High School, fondly remembers biking over that old bridge, so when he had to organize a community service project to complete his Eagle Scout certification, he knew rebuilding the bridge would be a great opportunity to not only earn his certification but also bring back a staple of the community.
"I wanted to see if I could rebuild it somehow because it held quite an importance in the community," said Max. "A lot of pictures were taken there, and it had a lot of practical use as well, as a bike trail and walking path."
After getting approval from the City of Ulysses to rebuild the bridge, Max needed to gather supplies and rally support to complete the project. When originally built, Pioneer Electric donated distribution poles for the foundation of the bridge, so Max once again reached out to the cooperative. Pioneer Electric gladly volunteered a four-man construction crew and donated two 60-foot transmission poles, two 40-foot distribution poles and a yard of rock.
"It was obviously the right thing to do,"said Ross Riley, Pioneer Electric Operations Supervisor. "Giving back to our members is one of the Seven Cooperative Principles—Concern for Community. This project not only helped a Scout achieve his goal, but it also helped the community replace a burnt down bridge, so it is good for everyone all around."
Max and Pioneer Electric employees spent a morning laying the groundwork and building the foundation to complete the new bridge. His father, Mark Giesaking, provided creative advice to help the volunteers overcome the unexpected challenges nature posed. "He was definitely quite a bit of help," said Max. "I was somewhat short on time toward the end and couldn't get any work done because of all the rain we were getting, so he came up with an idea to pump the water out so we could get started."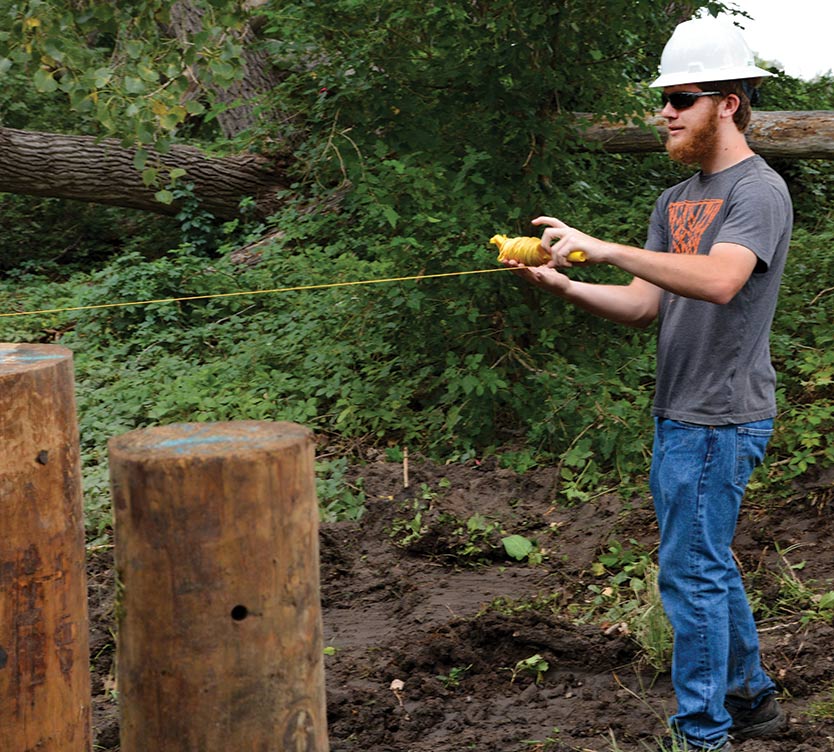 In addition to helping complete the bridge rebuilding, Mark also spent time helping Max's twin brother, Levi, complete his Eagle Scout project, refurbishing crosses at the local cemetery.
Beyond the assistance of Pioneer Electric, Max received help from Connect Ulysses, a local organization with the goal of connecting all of the various paths and trails throughout the area.
It took Max more than 140 hours of fundraising, planning and construction, to complete the project, along with the help of 16 other volunteers.
"I am very grateful for everything Pioneer Electric did," said Max. "I came here and asked if the cooperative would be able to help, and they said yes. Not only that, Pioneer Electric said they would provide the materials and volunteer their time for free, which really helped me in regards to fundraising."
Because of Max's efforts, the bridge at Frazier Park again serves as a place to be active outside, but it's so much more; the bridge serves as a long-time fixture in the community where members can connect with neighbors, friends and family. Pioneer Electric thanks Giesaking and the many volunteers who dedicated time to rebuilding the bridge.